November 7, 2018
Ralph Waldo Emerson once said, "Write it on your heart that every day is the best day in the year."
During a recent conversation with my husband, in which we were disagreeing about
something actually happening, he pointed out to me again that I am an optimist while he is a realist. Despite our differences, we have been able to overcome challenges and miscommunication to stay married for sixteen years. We even just finished a memoir depicting what we have learned from each other. Since we are so different, it is hard for some of our friends to fathom how we were able to work together on such a task. We did it with lots of patience and dedication to our common goal: get the book finished.
Due to our different outlooks, I decided it is okay to be both a optimist and a realist. In fact, combining the two is ideal to living a positive, fulfilling life. However, it is when you let negativity, stress, and resentment build inside of you that you become a pessimistic, disheartened person. This is something to overcome. If you work at it, you can find something positive in every negative situation.
As an optimistic person, I tend to live each day with the glass half full mentality. Forbes.com author, Carmen Gallo, states, "Optimists start businesses. An optimist sees opportunity where others see uncertainty and despair. When the economy is down like it is today and millions of people are out of work, the pessimist uses those factors as excuses to stay in place. The optimist refuses to let macro-economic trends impose hurdles on their imagination."
I am not always a perfect optimistic, especially when it comes to dealing with my insatiable drive to be "perfect" at everything. Then again, I am more hopeful that there are always going to be chances to improve and to overcome my failures. The sun always rises and sets each
day; we have the opportunity to start over each day, even to improve ourselves, just by waking up with a positive outlook. Now there have been many  mornings that I have dreaded going to work or I have worried too much about an event I am involved with, but I constantly remind myself that I know I am going to be alright.
I cannot help but think of the film Groundhog Day, in which Bill Murray's character has to repeat the same day until he learns to be grateful for others.
Pyschcentral.com author Jane Collingwood explains, "Optimism and pessimism operate on a continuum, of which the midpoint is realism. Realists explain events just as they are. Realistic optimists are cautiously hopeful of favorable outcomes, but they do as much as they can to obtain the desired results. The unrealistic believe it will all turn out well in the end, and do not do what is required to achieve that."
Stella Stephanopou, further elaborates,
"Although it may be more challenging for some than for others, every person has the capacity to change the way they perceive their respective realities — in essence, to alter their thoughts and engage in cognitive reappraisal. Not every thought that exists in someone's mind enters by choice — often, these negative thoughts can be intrusive, but the difference is that once they enter, the individual has the power to control them and become consciously aware of what they're thinking and how they're thinking about the scenario."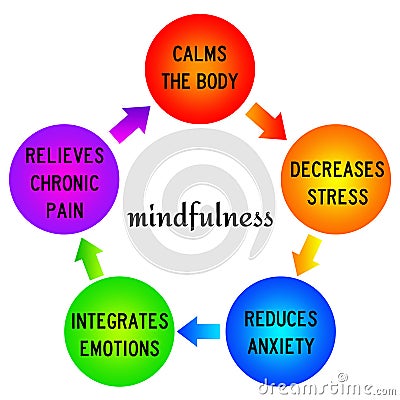 The fact that I have the power to change my way of thinking from negative to positive, even when I am frustrated while sitting in heavy traffic, seems far fetched to my naive mind. Before I started taking education classes and started talking to professional counselors, I would never have imagined how just finding something positive in the midst of the negative can change the way I respond to situations. All I have to do is remind myself that there is always a better way to react. I just have to take deep breaths, tap my fingers alternately one at a time, and visualize the possible outcomes. I can choose to stop and take a break in my thinking before I get upset with my daughter for not putting her laundry away or when my husband is frustrated with me because I am not ready when he has dinner on the table. I found this STOP Practice sign to help me remember by the Mindfulness Northwest
organization. I had a similar image posted in my classroom to help me remember to start each class period with a positive mindset.
Mindfulness Northwest also recommends a R.A.I.N. strategy:
"A powerful practice for re-assessing what's happening when you feel triggered.
R = Recognize what's happening – see if you can step out of the story line into the experience
A = Allow what's happening to be happening – see if you can soften around any resistance to the experience
I = Investigate – what do you feel in the body, what are the emotional feelings, what's churning in the mind
N = Non-Identification (or "Natural Awareness") – can you let go of the urge to make this about you, to identify with it,"
(Article about RAIN by Tara Brach in Yoga Journal)."
I spent last spring practicing mindfulness and meditation. I used the CALM app, which
 offers a vast array of different meditation topics depending on your mode and activity. My time relaxing and focusing on my internal, physical self reinvigorated me to transformation. The more I practiced, the more it stuck in my mind. There are other ways, of course, to increase your optimism
Collingwood further emphasizes, "Discover the ways in which your past may be distorting your present. Doing this can transform your grip on the truth for the better. By far the greatest cause of the emotional disturbances that make us avoid reality is our childhood relationships with our parents. Surprisingly few people have an understanding of the true role they played in their family, let alone of the extent to which suffered early maltreatment." Thus, we have emotional baggage from our childhood. Our parents did the best they could, but no parent is perfect. We just need to learn how to overcome our old hangups to proceed to a more virtuous live.
I do not think being a realist is all that bad, as long as you are also able to find positivity in stressful situations. I am a realist in part: I know that I cannot control how my students or my own children react to my directions. How I react to their reaction is completely under my control. My counselor friend, Connie B. says, "I am 100% responsible for my 50% of my relationship." Meaning how my family responds to me is not my choice; my reaction to them is completely up to me.
There is nothing wrong with being pessimistic or a realistic, but remember, how you let your reactions drive your days makes you who you are and how others see you.
Check out the following self-help books on Amazon:
Please share other resources you may have found!